HOW GRB-11 COMPOUND AFFECTS THE END PROPERTIES OF RUBBER VULCANIZATES
from typical butyl rubber compound based on butyl rubber BK-1675.
Below you can see the data obtained by adding GRB-11 compound (from 0 to 80%) into typical rubber compound based on butyl rubber BK-1675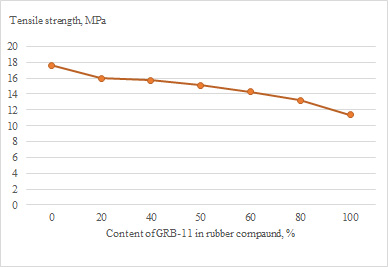 Pic. 1 GRB-11 effect on tensile strength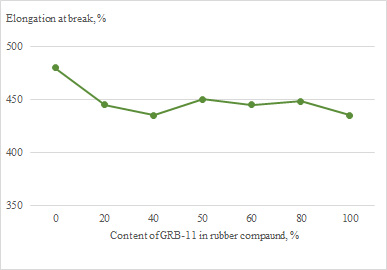 Pic. 2 GRB-11 effect on elongation at break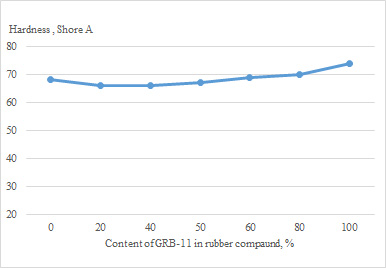 Pic.3 GRB-11 effect on hardness (Shore A)
Introducing up to 50% of butyl compound into rubber compound has almost no effect on the consumer properties of the final product. At the same time, it is possible to increase the content of butyl compound up to 80% and even 100% but with a certain compromise of such properties as Tensile strength and Elongation at break. But herewith such features of butyl rubber as heat-resistance, ozone resistance, gas impermeability and others remain the same, almost as original. So the economic benefit is significant. The same graphs as above are also obtained if GRB-11 is added in EPDM rubber compound which is usually used to produce molded rubber strips, gaskets and other parts where high weather resistance is required.